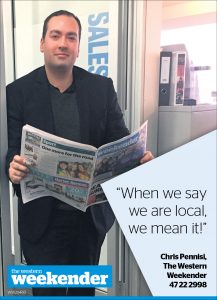 The Western Weekender continues to evolve its digital platforms, presenting strong and engaging content across web and social.
The Western Weekender website has become the must-read site for local news and information, providing an unrivalled coverage of the issues impacting the local community.
Numerous advertising options exist within our website, including traditional MREC and leaderboard positions, plus unique offerings including advertorial and video content.
On social media, the Weekender continues to lead the way with a market-leading Facebook page that provides the community with engaging, informative content with strong engagement.
On Twitter and Instagram, we continue to engage with readers in unique and informative ways about what's happening in Penrith.
Advertising options exist across all of our digital platforms.
Talk to us about being included in our weekly EDM that reaches more than 15,000 subscribers, or about stand-alone EDMs.