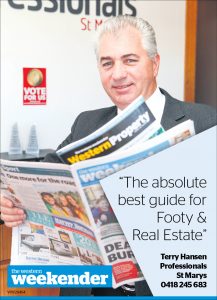 Released every Friday, The Western Weekender is Penrith's leading local newspaper. 
Delivered to homes and businesses across the Penrith Local Government Area, the publication is the premium source for news and information on the region.
With a dedicated on-the-ground news team, the Weekender is fully sectionalised, running content across News, Business, Entertainment, Lifestyle, Auto and Sport, plus special features through the year and the Extra Time liftout during the NRL season.
The Western Weekender provides a market-leading vehicle for businesses to advertise their products, services or events, reaching a strong cross-section of the Penrith population.
The Western Weekender delivers to homes and businesses each week.
In addition to home and business delivery, the Weekender also bulk drops to key locations throughout the city including supermarkets, service stations and clubs.
Delivered with The Western Weekender each week, Western Property is Penrith's #1 real estate guide. Western Property features all the latest property listings from Penrith's best agents and developers, as well as must-read guides to selling and purchasing property.
Combined, The Western Weekender and Western Property provide a premium outlet for advertising to the Penrith market.
We partner with hundreds of businesses every week - small, medium and large - to deliver the best possible outcome.
FACT: Almost 40% of Western Weekender readers are aged 35 to 55, providing advertisers with strong, direct contact with this demographic
FACT: 84% of Western Weekender readers say they have purchased a product or utilised a service after seeing it advertised in The Weekender.
FACT: Almost 60% of readers say two or more people in their household read the same copy of the paper
Type: Newspaper
Released: Every Friday
Booking Deadline: Monday 5pm
Artwork Deadline: Tuesday 5pm

Type: Magazine
Released: Every Friday
Booking Deadline: Monday 5pm
Artwork Deadline: Tuesday 5pm

Type: Newspaper Supplement
Released: Every Friday during NRL season
Booking Deadline: Monday 5pm
Artwork Deadline: Tuesday 5pm